With this 360° campaign in photo, film, TV and client magazine, MADELEINE celebrates the new femininity. A bow and homage to all women, everyday heroines, businesswomen, free spirits and mothers. The modern woman of today shows her soft side and thus her special strength instead of acting masculine as she did in the 80s and 90s. Nowadays, women no longer have to suppress their feminine side in order to be happy and successful. She stands by her femininity. Quite sovereignly. Female empowerment is the buzzword of now. The fashion market is reacting and adapting.
The famous trend researcher Li Edelkoort from Paris goes one step further and calls this trend towards the new femininity »Goddesses« in her lifestyle study. The woman of today as a modern goddess. This perspective on femininity today is also accompanied by a new freedom in fashion. The feeling of how to dress, elegance with ease is the stylish answer to it.


The Egyptians were in many ways a high culture and also the first to pay special homage to female power. First and foremost, probably the most famous »feminist« of her time: Cleopatra. Today's female empowerment meets millennia-old traditions. The epitome of the modern goddess is Elisa Sednaoui Dellal, the campaign face for this season. She was born in Cairo, has Egyptian roots and embodies exactly this modern, multi-faceted woman of today.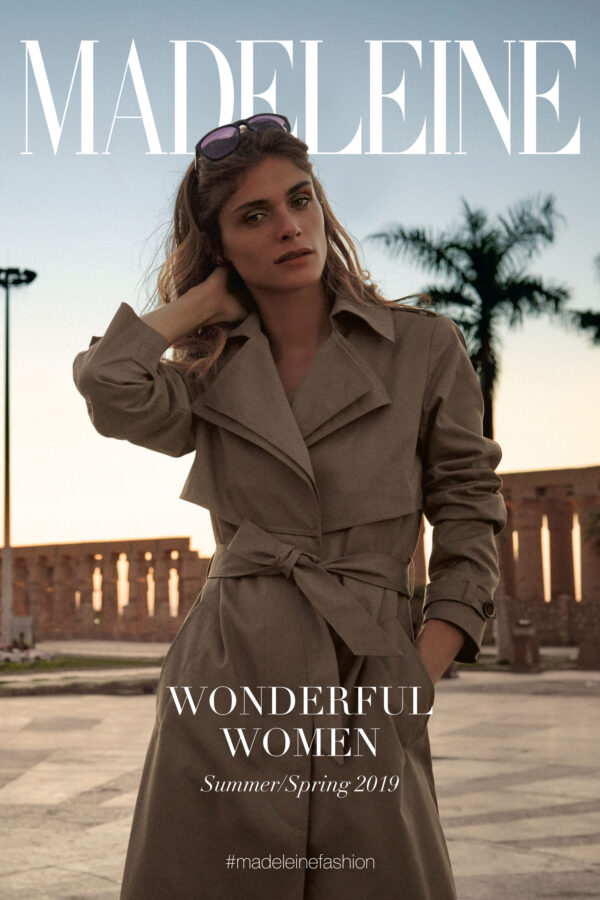 Elisa is beautiful, smart, strong, fierce, a successful star model and talented actress as well as the mother of two sons. She speaks six languages, has three passports and lives in England, Egypt, France and the USA. She could leave it at that. But she doesn't. The woman behind the glamorous facade has much more to offer. In 2013, she founded the Elisa Sednaoui Foundation (ESF) in Egypt. The organisation, which now operates worldwide, offers children and young people between the ages of four and 16, as well as adults, the opportunity for innovative and interdisciplinary educational programmes outside the school system. Elisa wants to pass on one thing above all to the »Funtasia« children: their free spirit, their openness to the world and the courage to develop their own personality.
Elisa spent the first years of her childhood in Luxor, where her father built a house 40 years ago. We visit the star model in her Egyptian home in Luxor, which means so much to her. We accompany her for a day in her favourite temple, take a traditional trip on the Nile, meet for tea time in an oasis of tranquillity at a family friend's house, stroll with her through the modern Luxor of today and enjoy the sunset in her father's magical house. We dedicate this monothematic magazine to her, this wonderful woman.
»I come to Egypt, to Luxor specifically because I find here deep, emotional nourishment that helps me to ground myself.«
Elisa Sednaoui Dellal